If you like this recipe come back on www.happystove.com and rate it!
Baked Ham with Herbs - Recipe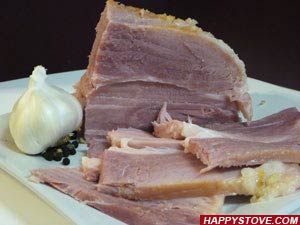 This tasty Baked Ham with Herbs recipe is perfect for a big holiday dinner or Sunday gathering.
Stats:
Preparation time:

15 minutes
Cooking Directions:
In a small bowl mix together the coarse salt with the minced sage, thyme, rosemary, and garlic.
Place the cooked Ham with its juice in a oven safe baking pan and make some holes in the ham using a knife. Insert a little piece of garlic in each hole.
Rub the ham with the mix of salt and herbs.
Bake at 325 F for 3 hours. Count about 15 minutes for each pound of meat.
After one hour open the oven and carefully pour the white wine on the oven roasted ham.
Slice and serve hot.
Tips:
Serve with a simple dressing sauce of mayonnaise or Dijon mustard.
Baked Ham with Herbs is tagged as: