If you like this recipe come back on www.happystove.com and rate it!
Hazelnuts Cake - Recipe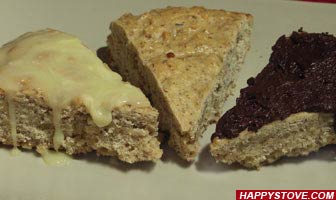 Hazelnuts Cake is a quick and easy recipe for an amazing result. Great as snack with your favorite tea and a yummy treat for your daily breakfast.
Stats:
Preparation time:

15 minutes
Cooking Directions:
Before starting roughly grind the toasted and peeled hazelnuts with a food processor.
Mix the warm (not hot) milk with a 1/4 Oz envelope of active dry yeast and let stand for 10 minutes.
In a large bowl mix well the melted butter with the sugar until smooth.
Add the eggs, the flour, the olive oil and the hazelnuts.
Knead until homogeneous and add the milk with the yeast. Mix well.
Let stand for 20 minutes in a warm place then transfer in a baking pan.
Preheat the oven to 320 F and cook for 25 minutes or until ready.
Tips:
After baking, you can top the hazelnut cake with a white chocolate cream. Heat 3 oz of heavy whipping cream. When hot mix with 1/2 cup of grated white chocolate and a tablespoon of butter. Stir well and decorate your cake.
Hazelnuts Cake is tagged as: