If you like this recipe come back on www.happystove.com and rate it!
Hummus sauce - Recipe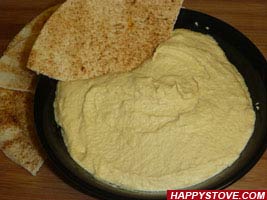 A middle eastern flavor in this smooth, creamy and easy hummus sauce recipe with garbanzo beans, tahini and garlic. Great as appetizer or snack. Perfect for your finger food parties!
Stats:
Preparation time:

10 minutes
Cooking Directions:
Drain 1/3 of the water from the can of garbanzo beans into a small bowl. Set aside for later use.
In a blender, mix together the garbanzo beans, the thaini, the garlic, the extra virgin olive oil, the lemon juice and the salt.
Blend for 1-2 minutes until a smooth, slightly fluid paste is obtained.
If needed, add small amount of the saved can water and blend to create a more fluid consistency.
Tips:
Try Hummus sauce with the traditional pita bread or with a homemade Italian flatbread (How to make Italian Piadina Flatbread ↪ )
Hummus sauce is tagged as: