If you like this recipe come back on www.happystove.com and rate it!
Gnocchi with Bolognese Sauce - Recipe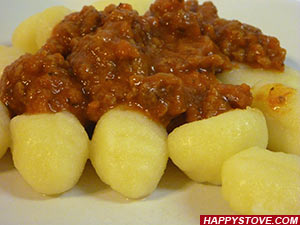 Gnocchi with Bolognese Sauce are an easy and delicious Italian dish, perfect for any special occasion. Bring the traditional Italian flavors on your table with this great and yummy recipe.
Stats:
Preparation time:

20 minutes
Ingredients:
To browse other recipes using that ingredient click on the
Cooking Directions:
Prepare the Gnocchi (How to make Potato Gnocchi ↪) and the Bolognese Sauce ↪ as described.
In a large pot bring to a rolling boil abundant water. Add the salt and wait until the water restart boiling.
Cook about 20 of the gnocchi per time. Sim the gnocchi and remove them with a skimmer ladle when they rise to the surface (2 to 5 minutes). Drain them well.
Dress with the Bolognese sauce, top with grated Parmigiano cheese and serve immediately.
Tips:
This recipe is perfect also if you use gnocchi made with ricotta cheese instead of potatoes. Just follow the easy instructions on How to make Ricotta Cheese Gnocchi ↪ to prepare them.
Gnocchi with Bolognese Sauce is tagged as: