If you like this recipe come back on www.happystove.com and rate it!
How to make Ricotta Cheese Dough - Recipe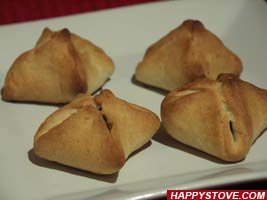 Ricotta Cheese Dough is a recipe for a light dough with a soft heart and a crusty outside. Versatile, can be used both for salty snacks or sweet pastries and pies.
Stats:
Preparation time:

30 minutes
Ingredients:
To browse other recipes using that ingredient click on the
Cooking Directions:
In a large bowl, mix the melted butter with the ricotta cheese.
Add slowly the sifted flour, salt and yeast and mix to obtain an homogeneous dough.
Compact the dough in a big sphere and let raise for about 30 minutes in a cool place.
Tips:
Using a rolling pin, roll the dough into a layer of the desired thickness (usually about 1/5-1/6 inches of height). Cut the dough in the desired shape to make cookies or snacks or use it as a base for a pizza or pie.
Ricotta cheese dough usually bake in 20 minutes at 400F.
How to make Ricotta Cheese Dough is tagged as: