If you like this recipe come back on www.happystove.com and rate it!
Asparagus Risotto - Recipe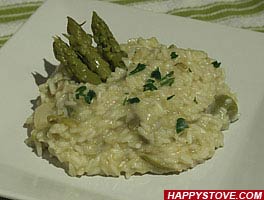 Asparagus Risotto is an irresistible and light vegetarian recipe for a superb dish. Perfect balance between delicacy and flavor, this risotto will charm you and your guests. Unforgettable.
Stats:
Preparation time:

15 minutes
Cooking Directions:
Prepare the vegetable broth in a large pot and adjust of salt. Bring it to a simmer point. You will need to keep the broth handy and very hot during the entire process.
Wash the rice in cold water. Finely chop the onion. Remove the bottom part of the asparagus and cut the tender part in small pieces. Save the heads (about 1 inch from the tip) and set aside.
In a large non stick pot heat the oil and then wilt the onion. Quickly add the rice. Allow few moments to heat up. Lower the heat.
Add the brandy and immediately flambes the rice. To do this operation light the rice using a long match and continue to stir until all the alcohol burns and all flames disappear. Use extreme caution and always make sure nothing flammable is close.
Add the asparagus pieces (everything but the heads) and stir.
Using a ladle pour some vegetable broth onto the rice. Cook until completely evaporated always stirring. Repeat pouring more ladles of broth and let evaporate until the rice is completely cooked. The secret for a great asparagus risotto is to repeat this operation many time always adding enough broth to allow some juice but not too much.
When almost ready, add the asparagus heads previously cut. Cook until the rice is "al dente", usually in about 20 minutes.
The last step is "mantecare" the rice. Remove from the flame. Add three tablespoons of butter and the Parmigiano cheese. Stir well with a wooden spoon until reaching the desired consistency. If it is too dry add a little bit of broth.
Top with fresh ground black pepper and fresh chopped Italian parsley and serve immediately.
Tips:
Choosing the right rice: for a perfect risotto use Italian rice variety like Vialone nano, Arborio or Carnaroli. The Italian rice is plump and oval shaped with white grains.
You can save some asparagus heads to garnish the plates. Boil them gently for two minutes in the broth. Place them on top of the rice before serving.
You can use either green or white asparagus, or a mix of the two. White asparagus have a more delicate taste while green asparagus are more flavored.
If you want to use pre-cooked asparagus or canned ones, add them to the rice at the end of the cooking time, just before the "mantecatura".
Asparagus Risotto is tagged as: