If you like this recipe come back on www.happystove.com and rate it!
Eggplants Sauce Pasta - Recipe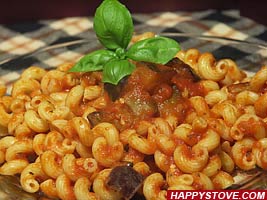 Eggplants Sauce Pasta is a light and easy recipe for a yummy dinner. Enjoy this vegetarian meal that well matches with cellentani pasta or other short cuts.
Stats:
Preparation time:

20 minutes
Ingredients:
To browse other recipes using that ingredient click on the
Cooking Directions:
Wash and cube the eggplants, each cube 1/2 inch wide.
To remove the bitter juices from the eggplants place them in a colander and spread with abundant salt. Cover with a dish and apply a weight on top in order to press the eggplants and help to release the juice. Let stand for 15-20 minutes then wash thoroughly. Dry using some paper towels or a kitchen cloth.
In a large pot, bring to boil enough water to cook the cellentani. When boiling, add salt and the pasta. Cook until \"al dente\", stirring occasionally.
In the meantime, cook the minced garlic in olive oil in a large non stick pan on moderate heat for about 1 minute, stirring occasionally.
Add the cubed, drained and dried eggplants, cover and cook for additional 5-10 minutes or until the vegetables are almost cooked. Add half cup of water if necessary.
Add the Homemade Traditional Tomato Sauce ↪ and gently simmer, covered, until sauce is thickened, about 10 minutes, then remove from heat.
When the pasta is ready, drain it and dress with the eggplants sauce. Garnish with some fresh basil leaves and serve.
Tips:
Add a touch of style to your dish slicing 1/3 of an eggplant in thin dishes. Drain the juices as described above and grill them. Use the slices to garnish your dish before serving.
If you in a rush, you may use a can of traditional tomato sauce instead of Homemade Traditional Tomato Sauce ↪.
Eggplants Sauce Pasta is tagged as: