If you like this recipe come back on www.happystove.com and rate it!
Zucchini and Potato Pearls - Recipe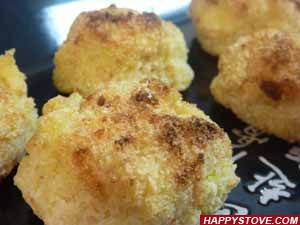 Bring an original appetizer on your table with this Zucchini and Potato Pearls recipe. A terrific idea for an easy and successful snack or finger appetizer.
Stats:
Preparation time:

60 minutes
Cooking Directions:
Wash and clean potatoes and zucchini.
Cook potatoes and zucchini in water until ready. Remove from the water and let cool down. Peel the potatoes.
Mash potatoes and zucchini and mix them together in an homogeneous paste.
Add the shredded or finely cubed Monterey jack cheese, adjust with salt and mix well with a wooden spoon to obtain an homogeneous compound.
With the zucchini and potato dough, form little balls (2/3 to 1 inch of diameter).
Roll the small balls in a bowl in which you have mixed the grated bread and the grated Parmigiano cheese.
Lay the zucchini and potato pearls in a baking pan greased with some oil. You can use a baking sheet instead.
Grill for a few minutes until the outside is golden and crusty.
Serve hot on a layer of shredded carrots.
Zucchini and Potato Pearls is tagged as: