If you like this recipe come back on www.happystove.com and rate it!
How to make Polenta - Recipe
In this article is presented the original recipe for the traditional Italian polenta, as cooked in the north eastern area. Originally a poor food, in the last years polenta has became an high end serving in many priced restaurants. Polenta is a versatile side for meat, bbq and seafood dishes. Perfect match with mushrooms, stews and sausages.
Stats:
Preparation time:

40 minutes
Cooking Directions: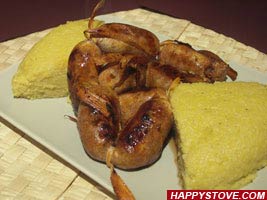 In a large and deep non stick stockpot bring to boil the water.
When the water boils add 1 tablespoon of coarse sea salt.
Lower the heat and slowly add the polenta style corn meal, stirring with a wooden ladle.
Cook for about 40 minutes, stirring continuously with a circular movement from the bottom of one side to the top of the other, to cook uniformly the polenta.
After 40 minutes the polenta mixture should be thick and pulling away from the sides. Allow to rest for 5 minutes without stirring, still at low heat.
Turn the polenta into a large plate and using a small moistened plate shape the polenta into a dome shape. Serve hot. Cover with a kitchen cloth to maintain the polenta warm for longer time.
Tips:
In the Italian tradition a twine i used to slice the polenta.
The best results are obtained using a traditional paiolo, a deep copper cauldron. The paiolo is generally hanged directly over the fire or placed into the wood stove rings.
There are different methods to cook the polenta. The traditional way calls for a wood fire. Good results can also be obtained over a gas stove. You can also cook the polenta in a microwave (with less flavor): place 3/4 cups of corn meal and 3 cups of water in a microwave safe container. Cover and cook on high for 8 minutes. Stir until well blended and cook for additional 3 minutes or until firm.
In Italy, depending of the area, two different kinds of polenta are prepared: yellow polenta (as shown in our picture) and white polenta, depending on the type of corn meal (white or yellow) used for the preparation.
Following this recipe, you will obtain a firm polenta with a thick texture, perfect for a barbeque, as side for your meat dishes or as a base to prepare original bruschetta like appetizers that calls for polenta instead of bread.
You can also prepare a smoother, tender, polenta using 1/2 to 3/4 of the corn meal amount suggested above. Tender polenta is perfect for sausages, stews and seafood such as fried or stewed shrimps and squids. You can also mix polenta with melting flavored cheese (i.e. blue cheese or Parmigiano Reggiano cheese) or butter, obtaining a flavored main dish.
Leftover firm polenta can be sliced and grilled the day after for a terrific substitute for bread. Flavor of grilled polenta is unique and stunning.
When turning the polenta on the plate, do not brush away the polenta attached to the pot walls. Once chilled and dried out, you will obtain amazing and delicious polenta chips.
How to make Polenta is tagged as: