If you like this recipe come back on www.happystove.com and rate it!
Pasta with Pesto Sauce - Recipe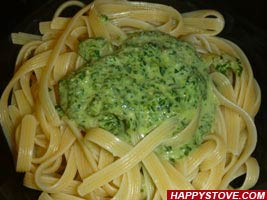 Pasta with Pesto Sauce is one of the most popular Italian recipes. An easy and healthy dinner traditionally prepared with linguini pasta. A stunning dish that will win your guests over.
Stats:
Preparation time:

10 minutes
Ingredients:
To browse other recipes using that ingredient click on the
Cooking Directions:
A more complete description, including tips and advice, for the preparation of the sauce can be found in the recipe for Pesto Sauce ↪.
Briefly, prepare you pesto sauce by mixing together 3 cups of basil leaves, 2 cloves of garlic, 1 tablespoon of pine nuts and 1 teaspoon of coarse salt with a food processor. Slowly add 1/2 cup of extra virgin olive oil until you obtain a smooth and creamy pesto sauce. Add 2 tablespoons of grated Romano (pecorino) cheese and 6 tablespoons of grated Parmigiano Cheese.
In a large pot bring to a rolling boil abundant water. Add the salt and wait until the water restart boiling.
Sim the linguini pasta and let cook until al dente or as instructed in the box, stirring from time to time. Drain them well.
Dress with the already prepared pesto sauce and serve immediately.
Pasta with Pesto Sauce is tagged as: