If you like this recipe come back on www.happystove.com and rate it!
Ovenbaked Frankfurter Sausage Wrapped in Pizza dough - Recipe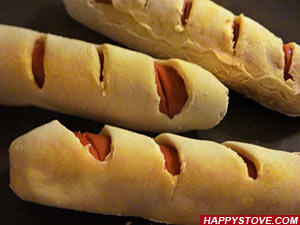 Ovenbaked Frankfurter Sausages Wrapped in Pizza dough are a mouthwatering snack, ideal for parties or finger food buffet. Hot dog sausages are a delicious filling for a homemade pizza dough wrap. A recipe for a yummy treat.
Stats:
Preparation time:

40 minutes
Ingredients:
Pizza Dough

(1/4 of the linked recipe quantities)

1/3 lb

(

see recipe

↪)
To browse other recipes using that ingredient click on the
Cooking Directions:
Prepare 1/4 of the pizza dough as described in "How to make Pizza dough ↪". Already made pizza dough can be found in almost any store or bakery.
Using a rolling pin, roll the dough into a layer of about 1/5 inches of height.
Cut the dough in large enough pieces and carefully roll the dough around each hot dog (or frankfurter) sausage to wrap them completely.
With a knife, perform small cuts on the dough (as shown in the picture).
Lay the wrapped hot dog sausage on a baking sheet and transfer in the preheated oven at 350F.
Cook for about 10 minutes. At this point, using a food or pastry brush, moist each wrapped sausage with some butter. For a lighter version you can simply use water or depending on your taste oil or vegetable spread.
Cook for additional 10 minutes or until the crust on top is lightly golden.
Serve hot each wrapped sausage, either plain or dressed with mustard, relish, ketchup or mayonnaise.
Tips:
You can add to the filling of each Frankfurter Sausage Wrapped Pizza dough some mozzarella cheese for a richer snack.
For a pizza-like flavor, add mozzarella cheese, 1/2 tablespoon of tomato sauce and some oregano to the hot dog sausage filling before wrapping.
Ovenbaked Frankfurter Sausage Wrapped in Pizza dough is tagged as: