If you like this recipe come back on www.happystove.com and rate it!
Oven Baked Homemade Italian Meatballs - Recipe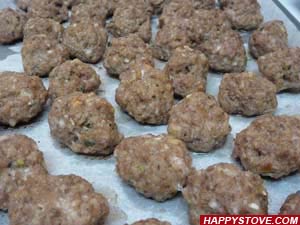 Ever thought on how easy and quick is to make your own Oven Baked Italian Meatballs? With this recipe you will learn how to prepare delicious, healthy and completely homemade Italian polpette meatballs for your whole family. Perfect for your meatball spaghetti or as fingerfood appetizers!
Stats:
Preparation time:

20 minutes
Cooking Directions:
Traditionally the recipe for Italian polpette meatballs calls for pan frying. In this recipe we show how to cook them in the oven for a healthier and lighter result.
Using a food processor reduce in pieces pancetta, onion, celery, Italian parsley and garlic.
Transfer the mixture in a large bowl and mix, with the help of your hands, with the bread crumbs and the ground beef.
Add the two eggs and knead to obtain an homogeneous dough. If the mix is too sticky, add some more bread crumbs. If too dry, add one or two tablespoons of water.
With your hands, shape the polpette in small balls of the desired size (we suggest meatballs as big as walnuts).
Lay the polpette meatballs on a baking tray covered with baking sheet or lightly greased.
Bake at 400F for 18-20 minutes. Remove from the oven and serve hot. You can eat them as they are, with your favorite sauce or as main ingredient for your pasta.
Tips:
You can vary the flavor of the homemade Italian Meatballs mixing to the ground beef olives, grilled red peppers, or steamed eggplants.
Instead of ground beef you can prepare oven baked polpette meatball using ground turkey or chicken.
Bread crumbs can easily be made at home. Simply use a food processor to crumble dry bread. It can be obtained heating fresh bread slices in a oven or a toaster for few minutes until slightly dry.
Do not overcook the meatballs to avoid them being too dry.
Oven Baked Homemade Italian Meatballs is tagged as: