If you like this recipe come back on www.happystove.com and rate it!
Potato Gateau - Recipe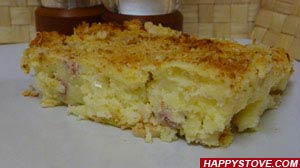 A Potato Gateau (or potato cake) is a tasty yet delicate mashed potato casserole made with ham, cheese and eggs. A perfect main course that will satisfy any taste bud!
Stats:
Preparation time:

40 minutes
Cooking Directions:
Wash and boil (or steam) the potatoes in slightly salted water.
When fully cooked, let them chill a while before peeling and cutting them in cubes.
Reduce the potatoes into a puree with a potato masher and transfer them in a large bowl.
Add to the mashed potatoes the Parmigiano cheese, the whole eggs, salt, pepper and some grated nutmeg. Mix well.
Add the cooked ham in small pieces and the chopped onions. Stir well.
Grease a large baking pan with some butter and sprinkle some bread crumbs on the bottom. Transfer the mashed potato mix in the baking pan and level it with a spatula.
Top with the remaining bread crumbs and with small pieces of butter to get a perfectly crusty top.
Bake in the oven at 350F for the first 15 minutes and then increase the temperature to 400F and let cook for additional 15 minutes.
When ready, remove form the oven and let cool a little bit before serving.
Tips:
Mozzarella cheese, provolone cheese or other melting cheeses can be added to the potato mix for an even richer potato gateau.
You can substitute the cooked ham with salami or any other cold cut of your choice.
Potato Gateau is tagged as: