If you like this recipe come back on www.happystove.com and rate it!
Tempura Batter for Frying Vegetables, Meat and Fish - Recipe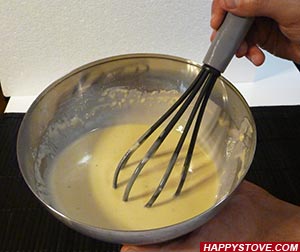 Discover in this recipe all the secrets for a light and crispy batter for deep frying vegetables, meat and fish. Follow this simple steps and advice for obtaining amazing fritters and tempura.
Stats:
Preparation time:

5 minutes
Cooking Directions:
Sparkling cold water is the secret for a light batter, the instant yeast also helps to keep it airy and crispy! Of course, depending on the type of food you are cooking you can adjust this recipe and use only one of this two ingredients.
Using a whisk beat the egg in a bowl until obtaining a airy, smooth and lump free cream.
Always stirring add the sifted flour, the instant yeast and the salt.
Slowly add enough cold sparkling water to obtain a creamy and dense batter. The batter consistency should be thick but not enough to stick to a spoon.
Completely dip pieces of vegetables, chicken or fish in the batter. Remove excess of batter and deep fry for few minutes (usually 1 or 2) until ready. Drain with some paper towel and adjust of salt.
The result will be a light and crunchy battered food to serve hot, together with lemon wedges and you favorite sauce for dipping like Homemade Spicy Ajvar Sauce ↪, Peanut Butter Dressing Sauce ↪ or Caramelized Onions and Mayonnaise Dressing Sauce ↪.
Tips:
Dry well the food before batter it. You can coat it with some flour before dipping it in the batter.
Try to substitute the sparkling water with cold beer or soda water for amazing battered vegetables.
If you need a sweet batter add some sugar. Try this sweet batter on apple chunks or apricots.
You can substitute the cold soda water and the yest replacing it with soda and vinegar. Add the soda to the eggs and the vinegar as last ingredient.
Suggested foods for a great tempura
Vegetables:
Carrots, zucchini, eggplants, bell peppers, cauliflowers, plantains, mushrooms, artichoke hearts, squash blossoms (Battered Squash Blossoms Stuffed with Mozzarella Cheese ↪) and, of course, onion rings.
Meat:
Partially precooked chicken or turkey pieces, cutlets, beef and lamb and diced hot dogs.
Fish:
Shrimps, cod or other fish fillets, calamari rings, sea scallops and conch.
Tempura Batter for Frying Vegetables, Meat and Fish is tagged as: