If you like this recipe come back on www.happystove.com and rate it!
Campanelle Pasta with Goat Brie and Black Pepper - Recipe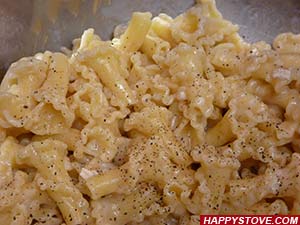 Campanelle Pasta with Goat Brie Cheese and Black Pepper is a delicious and quick pasta meal. With few simple ingredients you will cook a yummy meal in less than 30 minutes.
Stats:
Preparation time:

10 minutes
Cooking Directions:
In a large pot bring to boil enough water to cook the pasta.
When the water is boiling, add salt and the campanelle pasta. Cover and let cook as directed in the pasta box. Stir from time to time to prevent the pasta from sticking together.
While the pasta is cooking, gently warm up the milk in a sauce pan and add the brie cheese cut in small pieces.
Keeping the flame at medium-low heat, stir the milk until the brie cheese starts melting. Adjust of salt.
If you want a thicker, creamier sauce, add some sifted flour and whisk to avoid lumps until you reach the desired consistency and texture. Do not use too much flour or its taste will overcome the flavor of the sauce: one tablespoon of flour or less should be enough.
When the pasta is ready, drain and dress with the goat brie cheese and milk sauce. Sprinkle with abundant black pepper and serve immediately.
Tips:
Cheese from goat milk has a peculiar and tart flavor. If a milder taste is preferred, regular brie cheese from cow milk can be used without giving up on a creamy and smooth sauce.
Campanelle Pasta with Goat Brie and Black Pepper is tagged as: