If you like this recipe come back on www.happystove.com and rate it!
Deep Fried Battered Vegetables - Recipe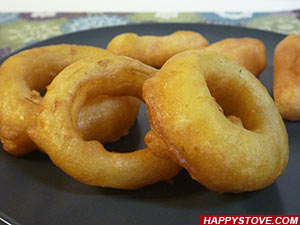 Prepare light and crispy fried battered vegetables at home following this simple recipe. Perfect as an appetizer, this battered veggie delight is also great as a fingerfood snack. Try it with you favorite vegetables such as onions, carrots, cauliflowers, peppers, mushrooms, broccoli and zucchini.
Stats:
Preparation time:

15 minutes
Cooking Directions: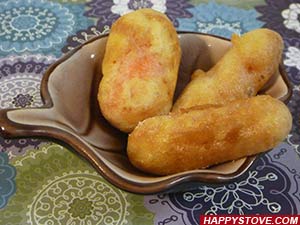 With the amount of batter suggested in this recipe you can prepare about 30 small pieces of battered vegetables, enough to serve about 6-8 guests. For a perfect result, make sure to wash, clean and dry very well all the vegetables.
Choosing and preparing the vegetables:
Mushrooms and Baby Carrots can usually be cooked whole. Cut them in halves if too big.
Zucchini should be sliced in 1/3 inch discs.
If using Broccoli and Cauliflowers, remove single branches from a head with a scissor.
Cut a whole onion in large rings about 1/2 inch wide. Use only the bigger and thicker external rings for nice, wide onion rings.
Chop in large pieces the red Bell Peppers after having removed the seeds and the white part.
Preparing the batter and deep frying the vegetables:
In a large bowl, beat the eggs until obtaining an airy, smooth and lump free cream.
Slowly add the sifted flour. Stir continuously to avoid lumps. Season with salt and pepper according to your preferences.
Always stirring start pouring the cold beer. The batter consistency should be thick but not enough to stick to a spoon. Adjust the amount of beer (or flour) accordingly.
Dip completely the previously prepared veggie pieces in the batter. Let drip the excess of batter.
Deep fry in hot oil in small batches for about 2 minutes or until the battered vegetables are golden and ready.
Remove them from the oil with the help of a ladle. Lay the pieces on paper towels to drain the excess of oil. Adjust of salt, if desired.
Serve your crispy fried vegetables immediately with your favorite dipping sauces such as Happy Dressing Sauce ↪, Homemade Spicy Ajvar Sauce ↪, Peanut Butter Dressing Sauce ↪, Cocktail sauce - Salsa rosa ↪ or Tzatziki sauce ↪.
Tips:
For more information and tips on battered food you can also read more at this link (Tempura Batter for Frying Vegetables, Meat and Fish ↪).
For this recipe we suggested to use lager or light beer. You can also try the flavor that different kinds of beer such as stout, pale or mild Ale, or Wheat give to your favorite fried vegetables.
Try using fridge cold beer as the result obtained heavily depends on the beer temperature.
In addition to the vegetables described in this recipe you can try this batter on your favorite vegetables.
Deep Fried Battered Vegetables is tagged as: