If you like this recipe come back on www.happystove.com and rate it!
Penne Pasta with Frankfurters and Tomato Sauce - Recipe
Our recipe for a quick and delicious pasta with frankfurters and tomato sauce. Penne with Wurstel and Tomato Sauce is easy, quick and tasty! Perfect for your everyday meal.
Stats:
Preparation time:

20 minutes
Cooking Directions: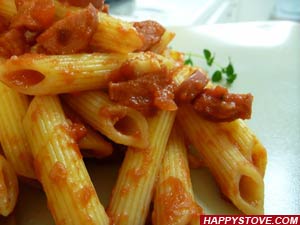 Cut the frankfurters in small pieces. Reduce the garlic in small pieces.
In a large pan sauté the garlic in the olive oil for about 1 minute, medium fire, without letting it brown.
Reduce the heat, add the crushed hot pepper and stir.
Add the frankfurters and let cook for about 2 minutes until slightly brown.
Add the tomato sauce. Cook for about 10-15 minutes until the sauce has a good smooth consistency. Correct with salt and pepper to taste.
Cook the Penne in abundant salted water, remove from fire when al dente, drain and toss in the sauce pan, mix well, add the fresh oregano and serve.
Tips:
We suggest the use of frankfurter made with beef, turkey and pork but you can adjust the recipe to your preferences
Consider to cover the boiling sauce with a splash screen and be careful with the sauce bubbles.
Penne Pasta with Frankfurters and Tomato Sauce is tagged as: