If you like this recipe come back on www.happystove.com and rate it!
Matzah Brei (Matzah Scrambled Eggs) - Recipe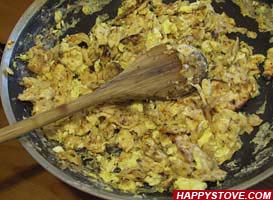 Matzah Brei (Matzah Scrambled Eggs) is a traditional Jewish recipe for an easy and quick meal. Usually prepared during Passover.
Stats:
Preparation time:

5 minutes
Cooking Directions:
Break the Matzah into pieces and wet them in the milk.
Heat a skillet with some oil
When hot add the Matzah with the milk. Stir until crispy or until the milk is gone.
In the mean time scramble the eggs in a small bowl. Adjust of salt.
Add the eggs to the Matzah and stir until reaching the desired consistency. Serve hot.
Tips:
To obtain an omelette with the same recipe, avoid stirring while cooking the eggs.
Matzah Brei (Matzah Scrambled Eggs) is tagged as: