If you like this recipe come back on www.happystove.com and rate it!
Diet Coke Spicy Chicken - Recipe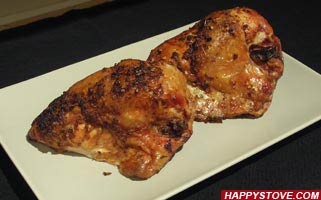 Diet Coke Spicy Chicken is a delicious recipe for a very crispy chicken. The flavor of the diet coke disappears while cooking, leaving only a mild sweet taste that well matches with the spiciness of the peppers.
Stats:
Preparation time:

20 minutes
Cooking Directions:
Clean and cut the chicken in pieces.
In a large skillet heat the oil and fry the chicken pieces until brown. Remove from heat and let cool.
In the meantime, using a food processor, blend hot peppers, oregano, garlic, salt and pepper with a spoon or two of diet coke. You should obtain a creamy paste.
Lay the chicken pieces in an oven baking pan and spread them with the paste.
Add the remaining coke on the bottom of the pan.
Cook in the preheated oven at 400F for about 60-90 minutes or until ready.
Serve with mashed or oven baked potatoes.
Tips:
You can use regular coke or your favorite soda like Pepsi if you like it better.
Diet Coke Spicy Chicken is tagged as: