If you like this recipe come back on www.happystove.com and rate it!
Octopus Salad - Recipe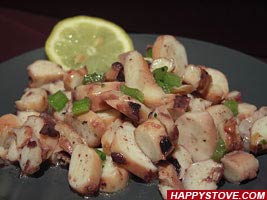 Octopus Salad is a delectable recipe for a healthy and low calories meal. This simple and delicious seafood dish can be served as a light entrée or elaborate appetizer.
Stats:
Preparation time:

10 minutes
Cooking Directions:
Prepare the octopus as described in How to Cook an Octopus ↪.
Cut the octopus tentacles in small pieces and the head in strips.
Dress with chopped celery, the lemon juice, the extra virgin olive oil and the Italian parsley. Adjust with salt and pepper.
Let marinade for at least one hour at room temperature.
Tips:
Octopus, when at fridge temperature, loses parts of its flavor. Always bring to room temperature, before serving.
If you like, you can remove the sucker disks form the tentacles before cutting the octopus in pieces.
Octopus Salad is tagged as: