If you like this recipe come back on www.happystove.com and rate it!
How to Make Homemade Water Based Glaze - Recipe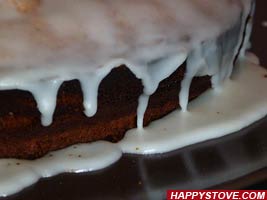 In this article is described an easy and quick way to obtain a delicious homemade Water Based Glaze to top cakes and cookies. This recipe is the base for lemon, chocolate, coffee, and orange flavored glazes.
Stats:
Preparation time:

5 minutes
Cooking Directions:
FLAVORS: Water based Glaze is base for many different topping glazes. Substitute water with lemon juice to prepare a delicious lemon glaze, orange juice for an orange glaze, coffee for a coffee flavored glaze. Substitute some sugar with powdered cocoa for a chocolate flavored glaze.
COLORS: You may use food coloring to obtain the perfect glaze match for your cake.
In a small bowl add to the confectioner sugar 1 and 1/2 tablespoons of water. Mix well to obtain an homogeneous and creamy glaze.
Adjust with water if too thick or add some sugar if too liquid.
Tips:
This water based glaze can be poured on top of cakes and cookies. Help yourself with a spatula, a cooking brush or a tablespoon to uniformly spread the glaze.
Water based glaze usually requires up to a few hours to harden.
How to Make Homemade Water Based Glaze is tagged as: