If you like this recipe come back on www.happystove.com and rate it!
Mushroom, Radish and Brie Skewers - Recipe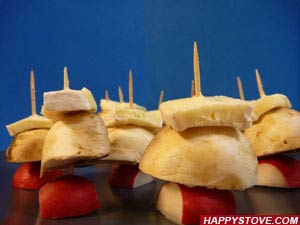 Mushroom, Radish and Brie Skewers are a quick and delicious idea for a great finger food snack or appetizer. Perfect for parties or as quick bite to enjoy before lunch with some sparkling white wine.
Stats:
Preparation time:

10 minutes
Cooking Directions:
Wash, dry out and cut in 1/2 inch pieces the fresh mushrooms.
Wash, dry and cut in halves the radishes.
Cut the brie cheese in small pieces, about 1/3 of inch.
Skew the radish halves with a toothpick placing the cut part at the bottom to serve as a base, so the skewer will stand.
On top of the radish, skew the mushroom pieces and, to follow, the brie cheese pieces.
Serve your skewers on a serving plate and if desired garnish it with small bunches of parsley or other herbs.
Tips:
You can substitute the brie cheese with the cheese of your choice.
Other possible food combinations for this small snack skewers are:
Cherry tomatoes, mushrooms and mozzarella cheese
Cherry tomatoes, frankfurter bites and mozzarella cheese
Pears and Parmigiano Cheese
Mushroom, Radish and Brie Skewers is tagged as: