If you like this recipe come back on www.happystove.com and rate it!
Pork Loin with Potatoes, Mushrooms and Baby Corn - Recipe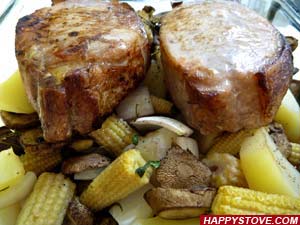 This recipe for oven baked Pork Loin with Potatoes, Mushrooms and Baby Corn is an exquisite idea for a country style dish. The meat is baked with its side dish making it a delicious one course meal without added fats or oil.
Stats:
Preparation time:

30 minutes
Cooking Directions:
Wash, peel and cut the potatoes. Boil or steam until they are almost fully cooked.
In the meantime, wash mushrooms and onions and cut them in pieces. Mince the garlic.
Quickly sear, in a large nonstick pan, every side of the pork loin on high heat until starts to turn brown.
Lay in a baking pan the cut onions, mushrooms, the potatoes and the drained baby corn.
Add rosemary, thyme and sage to the veggies and stir well. Adjust with salt and pepper if desired.
Lay the pork loin on top of the vegetables bed and transfer in the oven, previously pre-heated at 400F.
Let cook for about 30 minutes. At this point, pour some red wine on top of the pork loin and the vegetables.
Keep cooking for additional 10-15 minutes. Broil for 5 minutes if necessary.
Remove from the oven. Cut the pork loin in medium/thick steaks and serve with the vegetables as a side.
Pork Loin with Potatoes, Mushrooms and Baby Corn is tagged as: