If you like this recipe come back on www.happystove.com and rate it!
Fettuccine Pasta with Sausages and Mushrooms - Recipe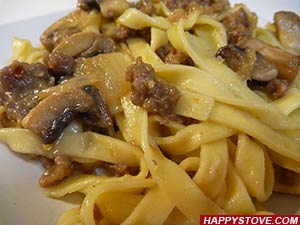 Fettuccine Pasta with Sausages and Mushrooms is a terrific recipe for a tasty and yummy main course. Enjoy this spiced sauce with your family and friends. An easy to prepare and really tasty pasta recipe great with an Italian white wine,
Stats:
Preparation time:

15 minutes
Cooking Directions:
In a large pot heat enough water to cook the pasta. When at rolling boil, add coarse salt and the pasta and cook the fettuccine until al dente
In the meantime, finely slice the onion, wash and slice the mushrooms. Remove the skin from the sausages and crumble.
In a sauce pan, heat the olive oil and caramelize the onions until golden brown. Add the crushed red pepper.
Add the crumbled sausage, the mushrooms and, stirring frequently, let cook until the sausage meat is golden and the mushrooms are cooked.
When the pasta is ready, drain it.
In large pan add the sauce to the pasta and mix very well. Saute briefly at high flame together with the sauce.
Serve hot and top with abundant grated Parmigiano cheese.
Tips:
When the mushrooms and sausage sauce is done, add 1/4 of cup of white wine. Let evaporate at medium high flame until you obtain a noodle sauce of the desired consistency.
Breakfast or country pork sausages are best for this recipe, also Italian (without fennel), chicken or turkey sausages guarantee good results.
Fettuccine Pasta with Sausages and Mushrooms is tagged as: