If you like this recipe come back on www.happystove.com and rate it!
Baked Bell Peppers stuffed with Ground Beef - Recipe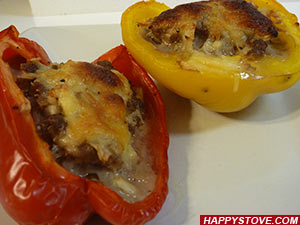 Oven Baked Bell Peppers stuffed with Ground Beef are a juicy and hearty main dish when served with a side of steamed rice or cous cous. This colorful recipe is great either cold or warm or reheated. It can be prepared ahead of time to serve both small and large families.
Stats:
Preparation time:

15 minutes
Cooking Directions: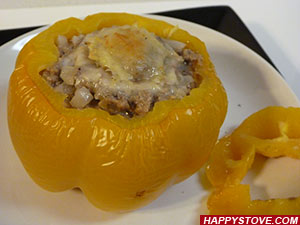 Cut in 2 halves the peppers lengthwise. Carefully clean from the seeds and the white parts.
In a large bowl mix the ground beef with the chopped onion and the eggs. Add half a cup of bread crumbs. Adjust of salt and pepper. Mix well.
Fill the peppers with the ground beef mix.
Top with some bread crumbs or cheese (Parmigiano or mozzarella) and oven bake at 400 degrees for 40 minutes or until ready.
Serve either as an appetizer or as a main dish with a side of steamed rice or cous cous.
Tips:
To shorten the oven baking time you may microwave at the highest power the ground beef filled peppers for about 5 minutes before baking.
To obtain a crusty top, use grated Parmigiano cheese on top and oven broil for no more than 5 minutes the stuffed peppers.
You can customize this recipe by mixing to the ground meat your choiche of olives, cheese, hot peppers.
This recipe is also great for stuffing red and green tomatoes. It is also delicious if prepared with ground turkey or chicken instead of the beef.
Prepared ahead of time and reheated these bell pepper stuffed with gound beef are a great choice for numerous guest.
Baked Bell Peppers stuffed with Ground Beef is tagged as: