If you like this recipe come back on www.happystove.com and rate it!
Turmeric and Ginger Chicken - Recipe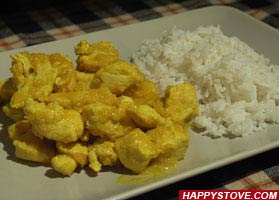 Turmeric and Ginger Chicken is a perfect recipe for a quick and delicious dinner. The tangy and flavorful sauce brings an oriental touch to this dish.
Stats:
Preparation time:

30 minutes
Cooking Directions:
In a food processor blend until obtaining a smooth sauce half of the onion, the garlic, the lemon juice, the turmeric and the ginger powder. Set aside.
Clean and cut the chicken breasts in one inch cubes.
Mince the remaining half onion. Heat a large skillet with the oil. Add the onion and cook until light brown.
Add the cubes of chicken and saute for 5 to 10 minutes until golden.
Add the previously prepared turmeric and ginger sauce and cook for additional 5 minutes adding few tablespoons of water if necessary.
Serve hot with a side of steamed rice.
Turmeric and Ginger Chicken is tagged as: