If you like this recipe come back on www.happystove.com and rate it!
How to make homemade Milk Bread - Recipe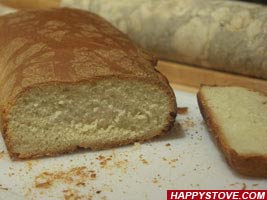 This article shows how to make your own delicious homemade milk bread. Surprisingly easy to prepare, milk bread has a very soft heart within a crispy crust. Perfect as base for a sandwich or with jam and peanut butter.
Stats:
Preparation time:

10 minutes
Cooking Directions:
Dissolve the yeast in the warm milk, add the melted butter. Adjust of salt and slowly add the sifted flour, kneading until obtaining a soft dough.
Shape the dough into a ball. Place it in a warm place covered with a wet kitchen cloth. Let rest for about 1 hour. The dough should rise to double his original size.
Grease a bread pan with some butter and lay into it the milk bread dough.
Bake in the preheated oven at 350 degrees for about 40 minutes.
Tips:
Instead of using a bread pan you can split the bread dough and create small breads in many shapes. Simply lay them over a baking sheet leaving enough room for them to rise. Take into accounts that smaller breads cook faster so reduce the baking time by 10 minutes.
You can flavor your homemade milk bread adding different herbs and flavors to the dough such has rosemary, thyme, olives or make a sweet version adding raisins and sugar.
How to make homemade Milk Bread is tagged as: