If you like this recipe come back on www.happystove.com and rate it!
Saute of Green Beans with Herbs - Recipe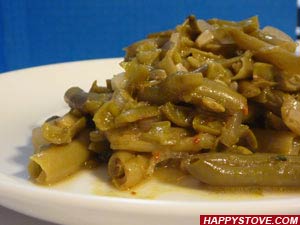 Spice up your dinner with this saute of Green Beans with Herbs. With its sweet soy sauce flavor and the hot and warm touch of jalapeños this recipe will conquer everyone!
Stats:
Preparation time:

15 minutes
Ingredients:
To browse other recipes using that ingredient click on the
Cooking Directions:
Finely slice the onion and chop the garlic. Drain the cooked green beans and cut them in pieces, if necessary. Wash and chop the jalapeños.
In a large pan, heat the sunflower oil and saute on high flame onions, chopped jalapeños and garlic until golden brown.
Add the green beans and stir fry for about 5 minutes or until ready.
Add cumin, ginger powder, shrimp paste, soy sauce and white peppercorns. If you desire you can premix this ingredients.
Cook for additional 1-2 minutes.
To preserve their flavor, add the chopped herbs just before serving: mint leaves, basil leaves and thyme.
Serve hot as a side for your favorite meat or seafood dishes.
Tips:
If you use fresh green beans, snap the tips and remove the strings. Cut them in pieces if too big. Wash them briefly and cook them in rolling boiling water for about 2-3 minutes. They are done when cooked but still slightly crunchy. Drain well and use them as described in this recipe. For canned green beans simply drain them before use. Frozen green beans should be thawed before.
Saute of Green Beans with Herbs is tagged as: