If you like this recipe come back on www.happystove.com and rate it!
Zuppa Inglese (Italian Pastry Cream Custard Sponge Cake) - Recipe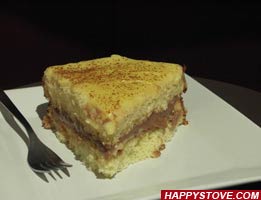 Zuppa Inglese (Italian Pastry Cream Custard Sponge Cake) is a recipe for a delicious cake and cream dessert. Layers of classic and Chocolate flavored Pastry Cream Custard and liquor moistened sponge cake are a successful treat for your guests.
Stats:
Preparation time:

45 minutes
Ingredients:
To browse other recipes using that ingredient click on the
Cooking Directions:
Prepare the Italian Sponge Cake, the Pastry Cream Custard and the Chocolate Pastry Cream Custard as described in the links above.
Cut lengthwise the sponge cake in layers of about 1/3-1/2 inch with the help of a thread or a knife.
Dip one sponge cake layer in the Alchermes liquor and lay it back in the pan.
Cover with a layer of Chocolate Pastry Cream Custard and add another sponge cake layer moistened with Alchermes.
Cover with Pastry Cream Custard and repeat to obtain a layered preparation.
Top with a layer of Pastry Cream Custard.
Keep in the fridge for at least 2 hours before serving.
Tips:
If you cannot find the Italian Alchermes liquor you may substitute with Rhum.
You may want to reduce the amount of liquor, diluting the desired Alchermes (or Rhum) amount with water up to the required volume.
Savoiardi Ladyfingers ↪ may be used instead of the sponge cake for the preparation of this Zuppa Inglese.
Zuppa Inglese (Italian Pastry Cream Custard Sponge Cake) is tagged as: