If you like this recipe come back on www.happystove.com and rate it!
Ovis Molis Pastries - Recipe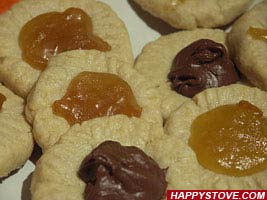 Ovis Molis Pastries is an original recipe for delicious finger cookies that will melt in your mouth. This tasty Italian recipe is peculiar for the use of boiled egg yolks.
Stats:
Preparation time:

30 minutes
Cooking Directions:
Boil the egs for 8 minutes and let them cool.
Remove the Yolk and strain it in a large bowl.
Melt the butter and mix it with the strained egg yolks, add the vanilla extract and stir well.
Slowly add the sugar and the flour mixing well obtaining a homogeneous dough.
Make little balls of dough one inch wide. Lay them on a greased cookie sheet. You can use a baking paper to avoid them to stick to the pan.
Press each ball with the palm of the hand and then with a finger make a depression in the center where the filling will be housed.
Bake at 250F for 10-12 minutes then fill the holes with your favorite jam or Dark Chocolate Hazelnut Spread ↪ and bake for an additional 5 to 10 minutes at 350F.
Tips:
It is very important to strain the boiled egg yolks and mix them well to the butter.
Do not over cook the pastries and do not allow them to brown. When ready they are still soft and pale and they set down while cooling.
Allow some space between the pastries since they are growing a little. Prefer making more small bites than huge pastries since the dough is fragile.
Ovis Molis Pastries is tagged as: