If you like this recipe come back on www.happystove.com and rate it!
Shortbread Cookies - Recipe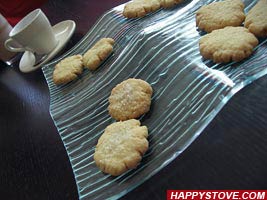 An easy recipe for shortbread cookies, ideal as a dessert or as a side for your tea or coffee time.
Stats:
Preparation time:

20 minutes
Cooking Directions:
Combine flour, sugar and egg yolks in a large bowl.
Add the egg yolks one by one and mix. Help with your hands to obtain a more uniform and soft dough.
Add the melted butter to the dough. Mix well until the dough is homogeneous.
Roll out the dough using a rolling pin, to obtain a layer 1/3 inch thick.
Cut the cookies with the shape of your choice using a cookie cutter.
Lay the cookies on a baking sheet. Top with some sugar.
Bake in the oven at 320 F for about 20 minutes or until slightly brown
Tips:
If you don't have cookie cutters, an easy way to obtain well shaped cookies is to make small balls of dough (1/2 inch to 1 inch of diameter) and spread them down with your hands
Another easy way to obtain perfect cookies is to shape the dough as long and thick logs. Refrigerate for a while to harden the dough and then just simply cut the dough in 1/2 inch slices
Shortbread Cookies is tagged as: