If you like this recipe come back on www.happystove.com and rate it!
Vegetarian Carbonara Pasta - Recipe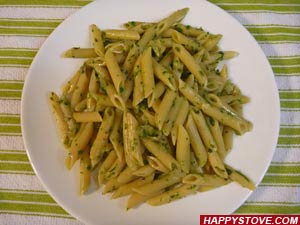 Vegetarian Carbonara Pasta is a great and healthy variation for the traditional Italian pasta alla carbonara. The mix of herbs perfectly match the smoothness of the egg yolks in a delicious result.
Stats:
Preparation time:

10 minutes
Cooking Directions:
Bring to boil the water in a large pot. Add salt and cook the pasta until al dente
In the meantime, wash, dry and finely chop basil, arugula, rosemary and sage.
In a large skillet, heat the olive oil and saute the finely chopped onions with the habanero pepper. When the onions are wilted, remove from heat.
In a large bowl, mix the egg yolks with the Parmigiano cheese. Add some milk if you want a smoother and creamy sauce.
When the pasta is ready, drain it and transfer into the large skillet with the previously wilted onions and habanero peppers. Add the herbs mix and heat for 30-40 seconds to saute the pasta.
Transfer the pasta in the large bowl and mix quickly to the egg yolks. Serve hot.
Tips:
If you desire a smoother sauce, you can add 1-2 tablespoons whole milk (or heavy whipping cream) to the egg yolks
This recipe is perfect to dress long pasta like thick Spaghetti or Fettuccine Rigate.
Vegetarian Carbonara Pasta is tagged as: