If you like this recipe come back on www.happystove.com and rate it!
Lemon Cake - Recipe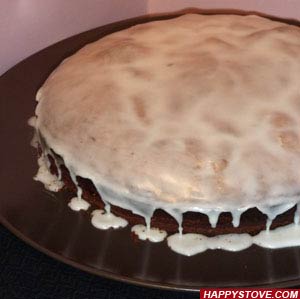 Lemon Cake is a perfect recipe for the whole family. The tangy and fresh flavor of the lemons is enclosed in a precious, soft and buttery heart. Perfect for your afternoon tea or as a great start for your morning breakfast.
Stats:
Preparation time:

40 minutes
Cooking Directions:
For the cake:
Soften the butter in the milk using either the microwave or the stove top at low heat. Allow to chill a bit.
Transfer the milk and butter in a large bow. Add the sugar and mix well.
One at the time, add the eggs mixing continuously.
Grate the zest off the lemons and add it in the bowl. Squeeze the 3 lemons and save the juice for later.
Slowly add the sifted flour in the bowl, mixing with a wooden spoon. At the very end add the yeast and mix well until there are no more lumps in the cake mix.
Pour the cake mix into an 8 inches diameter cake pan, previously greased with some butter and sprinkled with flour.
Bake in the preheated oven at 350F for 40 minutes. It will be ready when a wood stick inserted in the cake will come out dry.
Let cool down the cake and then fill and top it with the glaze as described below.
How to prepare glaze and filling:
Beat together the juice of the lemons with the powdered sugar. You can use an electric beater to make this step easier. See recipe (How to Make Homemade Water Based Glaze ↪) for additional instructions and suggestions.
Fill and top the lemon cake:
Transfer the cake on a serving plate.
Using a big syringe inject 1/3 of the lemon syrup glaze in the cake.
Top the cake with the glaze, covering the holes and leveling it with the help of a spatula.
Let rest for one hour, or until the glaze is set, before serving.
Tips:
If you like you can add a spoon of rum or brandy to the glaze.
Try it also with sweet lemons, grapefruits or tangerines instead of regular lemons.
Instead of using a food syringe, you can cut the chilled cake in half horizontally with a knife or with dental floss, spread some glaze and carefully put back the cake together. Top then with the remaining glaze to cover the cut.