If you like this recipe come back on www.happystove.com and rate it!
Filled Italian Piadina Flatbread (Crescione) - Recipe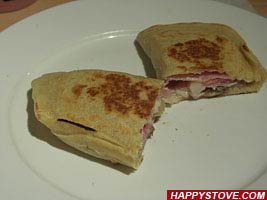 Crescione is a traditional dumpling made with Italian Piadina Flatbread filled with delicious ingredients. In this recipe we propose a Crescione stuffed with ham, mozzarella cheese and Mushrooms. Perfect for a yummy snack!
Stats:
Preparation time:

30 minutes
Ingredients:
To browse other recipes using that ingredient click on the
Cooking Directions: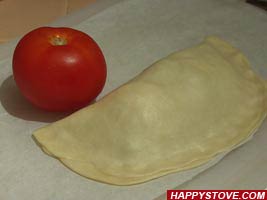 Prepare, without cooking, the Italian Piadina Flatbread as described in How to make Italian Piadina Flatbread ↪. Try to obtain a thin layer of dough.
Cut the dough in circles with a 1 foot diameter.
Fill half of the center of the piadina flatbread with sliced mushrooms, mozzarella cheese and ham. Dress the Crescione with some salt and pepper. Add some oregano if you like.
Close the piadina dough on top of the filling to obtain a gigantic dumpling and press with your fingers all around to close the filled Crescione.
Preheat a large enough skillet or griddle. Cook the Crescione on both sides until the dough is brown but still soft and the filling is hot.
Remove from the heat and serve hot.
Tips:
You can customize the Crescione filling based on your personal preferences.
Crescione can be stuffed with many different fillings such as:
Prosciutto and Mozzarella Cheese
Sweet Peppers and Turkey Ham
Ham, Fresh Tomatoes and Mozzarella Cheese
Filled Italian Piadina Flatbread (Crescione) is tagged as: