If you like this recipe come back on www.happystove.com and rate it!
Traditional Bolognese Cannelloni - Recipe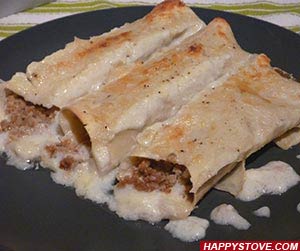 Traditional Bolognese Cannelloni are a delicious and very popular Italian dish, made with flat lasagna sheets rolled up around a mouthwatering stuffing of homemade bolognese sauce and Bechamel Sauce. A great recipe for your Sunday meal.
Stats:
Preparation time:

60 minutes
Ingredients:
To browse other recipes using that ingredient click on the
Cooking Directions:
Prepare the Flat Lasagna Sheets (as described in: How To Make Homemade Flat Lasagna Sheets ↪). each sheet should be about 4 x 6 inches wide. Alternatively you can buy lasagna sheets or already made cannelloni pasta.
Prepare ahead, for the stuffing, the Bechamel Sauce ↪ and the Bolognese Sauce ↪. Grate the Parmigiano Cheese.
Cook the lasagna sheets briefly (about 2 minutes) in boiling salty water before using them for your cannelloni pasta. We suggest adding a tablespoon of oil to the boiling water to keep the squares from sticking together.
Lay on the center of each lasagna sheet a tablespoon of Bechamel sauce and a tablespoon of Bolognese sauce.
Roll up each cannelloni sheet in theirs typical cylindric shape.
Grease a large enough oven safe pan. Pour 3 tablespoons of Bechamel sauce on the bottom to prevent sticking and maitain them moist. Lay on top of the bechamel sauce the cannelloni side by side to form a single layer.
Cover them with the remaining Bechamel sauce and finally top with abundant grated parmigiano cheese.
Bake in the oven the Bolognese Cannelloni at 400F for about 20 minutes. Before serving, broil them on high for additional 3/5 minutes to brown.
Remove from the oven and serve 2 cannelloni per dish accompanied with red Italian wine.
Tips:
If you use already shaped cannelloni pasta, boil according to the instructions in the box. Mix part of the bechamel and all the Bolognese sauce together and use a pastry bag or a teaspoon to fill the cannelloni before laying them in the pan.
if you have leftovers, they keep for few days in the fridge. Simply reheat them in the micro-wave or on the stove top with some milk and butter. Consider freezing your Cannelloni leftovers, they keep very well for some time.
For stronger, less likely to break cannelloni: cook, cool immediately in cold water and then dry the lasagna sheets before filling.
Instead of Bechamel sauce alone you can top your cannelloni with bolognese sauce, plain tomato sauce or a mix of them.
Traditional Bolognese Cannelloni is tagged as: