If you like this recipe come back on www.happystove.com and rate it!
French Fries, Bolognese Sauce and Ham Casserole - Recipe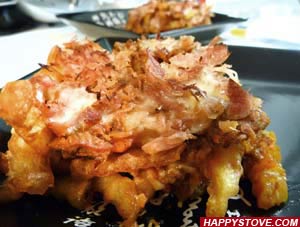 French Fries, Bolognese Sauce and Ham Casserole is a delicious idea for an original and yummy recipe. Perfect as a standalone meal!
Stats:
Preparation time:

20 minutes
Ingredients:
To browse other recipes using that ingredient click on the
Cooking Directions:
Prepare the Bolognese sauce as described in the recipe Bolognese Sauce ↪, or you can use a pre-made one.
Fry 1/2 pound of potatoes until golden brown. Remove from the oil, lay them on some paper towels to absorb the excess of oil and adjust with salt to taste.
Carefully spread a tablespoon or two of bolognese sauce on the bottom of a baking pan.
Lay some of the french fries to form an uniform layer.
Generously cover the french fries with bolognese sauce.
Top with cooked ham and some cheese.
Add another layer of french fries and top with the remaining bolognese sauce to uniformly cover the entire surface.
Top with some grated Parmigiano cheese if desired.
Preheat the oven at 400F and bake your casserole for about 20 minutes or until the center is hot.
French Fries, Bolognese Sauce and Ham Casserole is tagged as: