If you like this recipe come back on www.happystove.com and rate it!
Porcini and Ground Beef Filled Dumplings in Mushroom Sauce - Recipe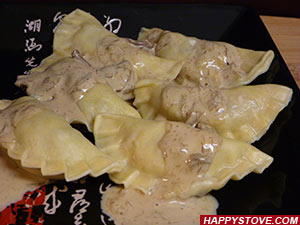 In this recipe a delicious stir fry of Porcini mushrooms and ground beef is used as a flavorful, hearty filling for dumplings made with homemade pasta dough. They are cooked to perfection and then served with a smooth and creamy Porcini mushroom sauce. A rewarding meal with a singular, delicate flavor.
Stats:
Preparation time:

90 minutes
Ingredients:
To browse other recipes using that ingredient click on the
Cooking Directions:
Preparing the Pasta Dough:
A detailed description on how to prepare the pasta dough can be found at the following link: How to make Homemade Pasta Dough ↪
Mix 4 cups of all-purpose flour, 5 eggs, 1 1/2 tbsps of oil, salt and water to obtain a dough neither too sticky nor too dry. Adjust the quantities of flour and water accordingly.
Form a ball with the dough and let rest, wrapped in plastic wrap, for about 1 hour.
Roll the dough with the help of a pasta machine (position 2 or 3). If you roll the pasta dough with a rolling pin, place the ball on a floured surface, flatten the ball with your hands and then finish with the rolling pin until you obtain a uniformly thick pasta layer.
Keep the pasta layer thick enough so it doesn't break apart when you add the filling and fold up the dumplings. Each sheet should be large at least 3 1/2 inches.
Preparing the Mushroom Bolognese Sauce:
You can prepare a delicious Mushrooms Bolognese Sauce as described in the recipe Porcini Mushrooms Bolognese Sauce ↪
Wash and clean 1/3 of a cup of chopped mushrooms. In a large skillet, saute 1 lb of ground beef in olive oil with a clove of minced garlic.
Add the chopped mushrooms and stir fry for 5 minutes. Adjust with salt and pepper. Let cool before using it as a filling for the dumplings.
Prepare the Porcini Mushroom and Cream Sauce:
The porcini mushroom and cream sauce (Porcini Mushrooms and Cream Sauce ↪) will be used as a sauce for your homemade mushrooms and beef filled dumplings.
Stir fry for 5 minutes one clove of minced garlic and 1/2 cup of chopped mushrooms in a large non stick pan with some olive oil. Remove from heat and add the table cream (8 oz). Mix well and save for later.
Fill, Fold and Cook the Dumplings:
Cut the pasta dough layer in circles with a diameter of about 3-3.5 inches. Lay them on a flat floured surface, keeping them apart one from the other to avoid undesired sticking.
Place half tablespoon of mushroom bolognese sauce onto the center of the previously prepared dough circles. Fold up, to obtain half moon shaped dumplings and tamp the dough to seal the edges. Lightly moist with water the edges of each dumpling to seal them more easily.
Keep the prepared dumplings separated to avoid them stick one to the other.
In the meantime, in a large pot bring to boil the water and add salt to taste.
Cook the dumplings in batches of 3 or 4, depending on the size of your pot. Avoid cooking too many of them to prevent sticking in the first minutes.
Wait until they float to the surface of the water (about 5-to-7 minutes). Drain carefully with a strainer ladle to avoid breaking them. Transfer on a plate.
Dress with the Porcini mushrooms and cream sauce and serve hot.
Tips:
Porcini Mushrooms have a really intense flavor. You can use a mix of Porcini and other Mushrooms with great results.
You can substitute the ground beef with ground turkey or chicken. For a meatless version of this recipe you can just fill with stir fried mushrooms and some mozzarella or ricotta cheese.
To better seal the dumpling you can fold over the edge a little bit or use a dumpling press.
Porcini and Ground Beef Filled Dumplings in Mushroom Sauce is tagged as: