If you like this recipe come back on www.happystove.com and rate it!
Stir Fried Red Beets with Onions - Recipe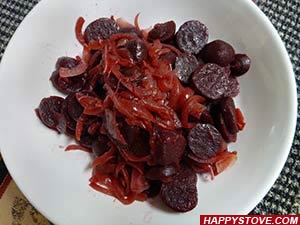 Stir Fried Red Beets with Onions are a delicious side dish to accompany on your table delicate meats like chicken and turkey breasts. Surprisingly yummy and delicious, this great side dish can be prepared in less that 30 minutes from scratch.
Stats:
Preparation time:

10 minutes
Cooking Directions:
If using fresh red beets, wash them, remove the tail and boil in water for 15-20 minutes. Red beets are ready when you can easily pierce them with a fork. Remove from heat, let cool, peel and slice them. If using canned red beets, drain them before use.
In a large skillet, heat the extra virgin olive oil and caramelize the sliced onions until lightly golden/brown.
At this point, add the sliced red beets and let saute for 1-2 minutes to blend the flavors.
Adjust with salt and black pepper and serve hot as a side for chicken breasts, turkey or pork steaks.
Stir Fried Red Beets with Onions is tagged as: