If you like this recipe come back on www.happystove.com and rate it!
Filet Mignon Steak with Green Peppercorn Sauce - Recipe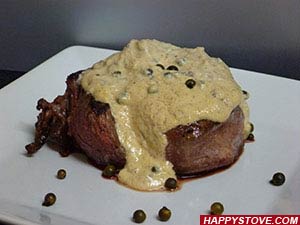 Filet Mignon Steak with Green Peppercorn Sauce is a classic of the culinary tradition. Cooked with prime choice meat, spicy green peppercorns and creamy sauce, this sophisticated dish is surprisingly quick to prepare. A heavenly delicacy in no time!
Stats:
Preparation time:

5 minutes
Cooking Directions:
To start, tie each filet mignon steaks with twine, wrapping the string around the sides of the steak. Tying a filet mignon helps cooking it evenly.
Crack the green peppercorns with a meat tenderizer or with the bottom of a heavy skillet. Don't crack them if you like your meat less spicy.
Heat a large skillet over low heat. Add the butter in the pan and when melted add the cracked green peppercorns.
Lay the meat in the pan and cook on medium heat for about 2 minutes per side or until the desired doneness is reached.
Turn off the heat, adjust of salt and remove the steaks. Remove the twine with the help of scissors or a knife. Keep the filet mignons in a warm place while preparing the sauce.
For the sauce use the same skillet used for cooking the steaks without discarding the dripping. If desired, add the brandy to the drippings. Use caution when turning on the heat, brandy is highly inflammable.
Turn on the flame at low heat and, always stirring, reduce the sauce if necessary. Add the Dijon mustard and the table cream. Adjust again with salt if required.
Keep stirring and, with a swifter, add slowly the flour until the sauce thickens. Bring the sauce to a boiling point and remove from heat. Cook longer or adjust with flour or some milk until reaching the desired thickness.
Serve each fillet mignon steak on a warm plate covered with the delicious green peppercorn and cream sauce.
Tips:
Instead of the brandy you can add to the drippings 1 oz of cold milk.
Coconut oil or ghee can substitute the butter for cooking the meat.
If desired, you can also replace the table cream with heavy wipping cream.
As a side, choose something lightly flavored that will not overcome the delicious taste of these filet mignon steaks with green peppercorns sauce. Steamed rice, mashed potatoes or a green salad are perfect choices.
Filet Mignon Steak with Green Peppercorn Sauce is tagged as: