If you like this recipe come back on www.happystove.com and rate it!
Pasta with Spicy Zucchini and Fresh Tomatoes - Recipe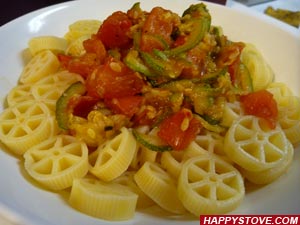 Pasta with Spicy Zucchini and Fresh Tomatoes is a yummy vegan idea for a great pasta. Enjoy the freshness of tomatoes and zucchini mixed with the spicy touch of the hot peppers. A great pasta for spicy lovers!
Stats:
Preparation time:

15 minutes
Cooking Directions:
Before starting, wash the vegetables. Slice the zucchini, cube the tomatoes and mince the garlic.
In the meantime, in a large pot heat enough water to cook the pasta. When boiling, add the salt, the pasta and let cook until al dente.
In another large pan, heat the olive oil and quickly saute the garlic. Before the garlic turns brown, add the sliced zucchini and the crushed red peppers. Cover and cook for about 15 minutes or until soft and fully cooked. Stir often.
Adjust with salt and pepper and add the diced tomatoes. Stir well and saute, uncovered, for about 1-2 minutes.
Drain the pasta and dress with the spicy zucchini and tomatoes sauce. Serve hot.
Pasta with Spicy Zucchini and Fresh Tomatoes is tagged as: