If you like this recipe come back on www.happystove.com and rate it!
Penne Pasta with Bacon, Black Olives and Mushrooms - Recipe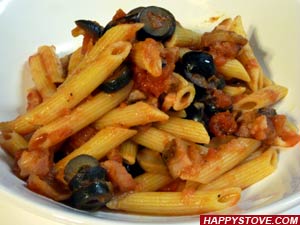 Delight your taste buds with this easy recipe for Penne Pasta with Bacon, Black Olives and Mushrooms. A delicious idea for a quick and yummy pasta recipe. A mouthwatering experience!
Stats:
Preparation time:

15 minutes
Cooking Directions:
In a large pot bring to boil enough water to cook the pasta. When at rolling boiling add the salt and the pasta. Cook until al dente as directed.
In the meantime, wash the vegetables. Slice the mushrooms, chop the onions and the pitted olives.
Cube the bacon and set aside.
Saute the onions in a large pan with some extra virgin olive oil. When caramelized, add the bacon cubes, the olives and the mushrooms.
Saute for one additional minute, stirring often. Adjust with salt and pepper. Add the crushed (if dried) or minced (if fresh) hot habanero pepper to spicy it up, if desired.
At this point, add the tomato sauce and let cook, covered, at low heat for about 5 minutes.
When the pasta is ready, drain and dress with the bacon, black olives and mushrooms sauce.
Tips:
For a gourmet pasta, use Porcini mushrooms, Greek Kalamata Olives and Italian Smoked Pancetta. Sprinkle some fresh grated Parmigiano Cheese just before serving.
Penne Pasta with Bacon, Black Olives and Mushrooms is tagged as: