If you like this recipe come back on www.happystove.com and rate it!
Yogurt Pie - Recipe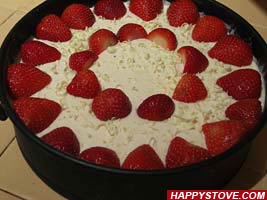 This original and easy Yogurt Pie recipe has a light and fresh taste. Does not require oven baking and allows you many different variations.
Stats:
Preparation time:

20 minutes
Cooking Directions:
For the Crust:
Melt the butter on low heat in a non-stick pan.
Add the melted butter to the graham cracker crumbs and mix.
Lay the mixture in a springform pan pressing it to obtain a regular layer
For the Filling:
Whip the cream with an electric beater.
Add the yogurt and the icing sugar to the whipped cream always mixing slowly and in the same direction.
For a thicker filling add some gelatin (1 teaspoon or 2 leafs/sheets every pound or as indicated in the gelatin instructions) to the mixture during the preparation.
Preparing and Baking the Pie:
Spread the filling on the crust with the aid of a spatula to obtain an even top.
Refrigerate for about 4 hours. Remove from the springform pan. Before serving garnish with your choice of topping or fresh fruits
Tips:
This pie well adapts to many flavors. You can easily choose the flavored yogurt that better fits your taste. You can also top the pie with your favorite fresh fruits such as strawberries or chocolate chips.
If you do not have a springform pan, you can use baking paper in a pan with great results. Before serving just remove the cake from the pan lifting the baking sheet.