If you like this recipe come back on www.happystove.com and rate it!
Mint and Almonds Pesto Sauce - Recipe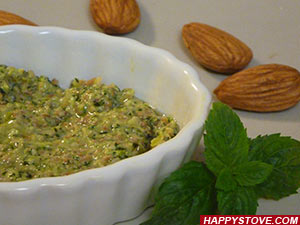 Mint and Almonds Pesto Sauce is a quick and tasty idea for a great dressing sauce. With its fresh and nutty flavor, this sauce is perfect as a dressing for your spaghetti pasta or to accompany savory meat like lamb and games.
Stats:
Preparation time:

5 minutes
Cooking Directions:
Before starting, toast the almonds in the oven at 400F for about 15 minutes. Alternatively, you can saute them on a non-stick pan until the skin starts to peel off. Remove them from heat and let cool down before peeling.
Wash and clean the mint leaves and chop them together with the toasted almonds in a food processor.
Add the extra virgin olive oil and the lemon juice and blend the mix with the food processor to obtain a homogeneous and creamy sauce.
Adjust with salt and black pepper. Add some grated lemon zest and mix well.
Use this sauce to dress your pasta or your meat of choice. Perfect for lamb, games and other savory meats.
Tips:
Adjust the quantity of the oil and the lemon juice accordingly to your taste to create a perfect balance.
You can leave the Mint and Almonds Pesto Sauce crunchy by blending them for a shorter time in the food processor. This is especially suggested when the sauce is served with games. Blend it more until very smooth for using it as a pasta dressing.
This pesto sauce has a very strong taste. If you like milder flavors, consider substituting part of the mint with some Italian parsley to turn it in a more delicate dressing for pasta or white meats. Consider also adding some milk or grated Parmigiano cheese.
For best results you can use a mortar instead of the food processor. This will avoid undesirable overheating that may be responsible for the loss of the most volatile aromas of nuts and mint leaves.
Mint and Almonds Pesto Sauce is tagged as: