If you like this recipe come back on www.happystove.com and rate it!
Battered Squash Blossoms Stuffed with Mozzarella Cheese - Recipe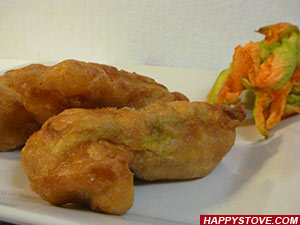 Battered Squash Blossoms Stuffed with Mozzarella Cheese are an amazing idea for a tasty hors d'oeuvre recipe. Simply fill and fry in little oil the battered blossom for a wonderful, mouthwatering, experience.
Stats:
Preparation time:

30 minutes
Cooking Directions:
Squash blossoms are the flowers of summer and winter squashes. In this recipe is shown how to prepare an amazing squash blossoms tempura. A curiosity: these flowers are edible both raw or cooked and usually only male blossoms (the ones with a thinner stem) are eaten leaving the female flowers on the plant to grow a squash.
The Flowers:
Gently wash and clean each squash blossom. Drain using some paper towel.
Without breaking the petals cut the stem. You can either leave or remove the stamen inside the flowers if you need extra space for your fillings.
The Batter:
Prepare the batter whisking the eggs. Add the flour the cold sparkling water. Adjust of salt and pepper. More details on how to prepare a batter can be found here: Tempura Batter for Frying Vegetables, Meat and Fish ↪.
The Fritters:
Fill each squash blossom with some of the mozzarella cheese pieces and pancetta cubes.
Dip each flower into the batter, coat completely. Remove excessive batter and fry in abundant hot oil.
Let drain of excess oil on a paper towel, sprinkle the fried blossoms with salt and serve hot.
Tips:
Pancetta can be substituted with bacon or sausages. Instead of Mozzarella cheese you can use ricotta or grated Parmigiano cheese.
A vegan version of this recipe calls for zucchini pieces, garlic and tofu filling.
You can also add minced garlic to the batter for extra flavor.
Cook in batch of 3/4 blossoms at the time and make sure the oil is hot (375F/400F) before cooking the following batch.
Battered Squash Blossoms Stuffed with Mozzarella Cheese is tagged as: