If you like this recipe come back on www.happystove.com and rate it!
Prosciutto Philadelphia Tramezzini Rolls - Recipe
A really tasty idea for an original appetizer. Philadelphia Tramezzini rolls will make you fall in love with their flavors.
Stats:
Preparation time:

10 minutes
Cooking Directions: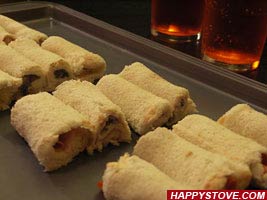 Cut the crusts off all the bread slices. Using a rolling pin reduce the bread to a very thin layer.
Spread a layer of cream cheese on one side of the bread slice. Add one or two slices of Prosciutto and another layer of cream cheese.
Slowly roll the bread slice to obtain a tight roll.
Wrap the rolls in a moistened dishcloth and put it in the fridge for about 4 hours.
Before serving cut each roll in 1 inch pieces.
Tips:
The most the rolls stay in the fridge the tastier they become.
Best results are obtained using Tramezzini bread, if you don\\\\\\\'t find it prefer bread in large slices.
Cream cheese rolls are a versatile appetizer. Just match the flavors you like better and you will be able to create many delicious snacks
Prosciutto Philadelphia Tramezzini Rolls is tagged as: