If you like this recipe come back on www.happystove.com and rate it!
Ladyfingers Chocolate Pudding - Recipe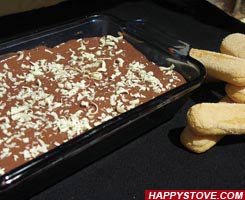 Ladyfingers Chocolate Pudding is a quick and easy to prepare dessert. Great for your last minute dinner or as successful snack.
Stats:
Preparation time:

20 minutes
Ingredients:
To browse other recipes using that ingredient click on the
Cooking Directions:
Prepare the Chocolate Pastry Cream Custard as described at the link above.
Prepare an espresso coffee (unsweetened!) and let cool down, in a deep plate or small pan.
Quickly dip the ladyfingers cookies in the cold coffee and lay them down in a large pan (6x9\'\') in a single layer.
Cover with the cream. If you wish, you can arrange a second layer of cookies and cream, as explained above.
Refrigerate for a few hours and serve chilled.
Tips:
For a quick dessert you can also use chocolate pudding instead of the homemade chocolate pastry custard.
Best results can be obtained using espresso coffee but a strong regular homemade coffee can give you great results. Put a cup of water in your coffee machine with 3-4 spoons of your coffee.
If you want to preserve the Lady finger Chocolate Pudding consistency, dip the biscuits in the coffee until slightly moistened.
You can garnish this dessert with white chocolate flakes.
Ladyfingers Chocolate Pudding is tagged as: