If you like this recipe come back on www.happystove.com and rate it!
Baked Peppers Stuffed with Rice and Tuna - Recipe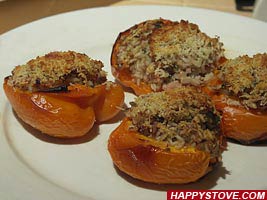 Oven baked red peppers stuffed with tuna, capers and rice are a perfect idea for your dinner. Awesome as main dish or as a side for your everyday meal.
Stats:
Preparation time:

15 minutes
Cooking Directions:
Cut in 2 halves the peppers lengthwise. Carefully clean from the seeds and the white parts.
In the meantime steam the rice. We suggest the use of the microwave or a rice steamer for better results.
In a large bowl mix the steamed rice with the chopped onion and the drained tuna. Add the chopped capers. Adjust of salt and pepper. Mix well.
Fill the peppers with the rice and tuna mix.
Top with some grated Parmigiano Reggiano and oven bake at 400 degrees for 25-30 minutes or until ready.
Serve hot with a side of vegetables of your choice.
Tips:
To shorten the oven baking time you may microwave at the highest power the Rice and Tuna filled peppers for about 5 minutes before baking.
To obtain a crusty top you can oven broil for 5 minutes the peppers.
You can customize this recipe by substitute to the capers your choiche of olives, cheese, hot peppers.
Baked Peppers Stuffed with Rice and Tuna is tagged as: