If you like this recipe come back on www.happystove.com and rate it!
Peanut Butter Tramezzini Rolls - Recipe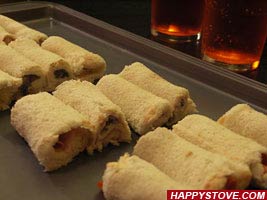 A sweet version of the Italian tramezzini. Roll Peanut Butter and jelly in a thin layer of white bread for the best tramezzini you have ever had.
Stats:
Preparation time:

10 minutes
Cooking Directions:
Cut the crusts off all the bread slices. Using a rolling pin reduce the bread to a very thin layer.
Spread a generous layer of peanut butter on one side of the bread slice. Add one or two teaspoons of your favorite flavored jelly.
Slowly roll the bread slice to obtain a tight roll.
Wrap the rolls in a moistened dishcloth and put it in the fridge for about 4 hours.
Before serving cut each roll in 1 inch pieces.
Tips:
The most the rolls stay in the fridge the tastier they become.
Peanut Butter Tramezzini rolls are perfect as sweet bites. Try to mix different flavors using different jellies.
Peanut Butter Tramezzini Rolls is tagged as: