If you like this recipe come back on www.happystove.com and rate it!
Oven Baked 7 Bone Steak - Recipe
A simple and delicious recipe for cooking a 7 bone steak in the oven. The reward will be a tender, juicy and flavorful beef steak to serve along with your favorite sides. Incredibly easy and yummy!
Stats:
Preparation time:

30 minutes
Cooking Directions: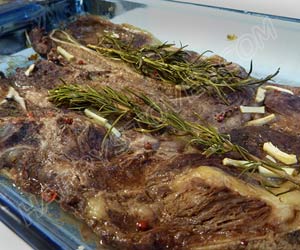 Lay the 7 bone steak in a large baking pan.
Rub each side with coarse salt, pink pepper corns and finely chopped garlic.
Lay the rosemary over the meat.
Bake in the pre-heated oven for about 20 minutes at 400 F.
After 20 minutes remove the steak from the oven and pour half a cup of white wine on top of it.
Cook for additional 20/25 minutes depending on the thickness of the steak or until ready.
Serve with a side of french fries, baked potatoes, mixed vegetables.
Tips:
If you like a more flavored meat you can use red wine instead.
Oven Baked 7 Bone Steak is tagged as: