If you like this recipe come back on www.happystove.com and rate it!
Mayonnaise and Beef Pasta Salad - Recipe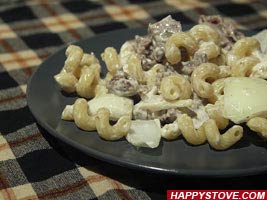 Mayonnaise and Beef Pasta Salad is a fresh and tasty recipe. Perfect to turn beef leftovers into a great dinner.
Stats:
Preparation time:

30 minutes
Cooking Directions:
Cook the Cellentani pasta accordingly to the box instructions until 'Al Dente'. When ready drain the pasta and let cool. Do not overcook the pasta or it will soften too much while cooling down.
Spice and cook the beef cubes with two tablespoon of oil in a pan for about 10 minutes or in the oven for about 30 minutes or until ready. Let cool.
Cut the onion in large pieces. Rinse the onion pieces and dry well.
In a large bowl mix the pasta, the raw onion pieces, the cubed meat. Dress with mayonnaise and the meat cooking juices. Adjust with salt.
Tips:
This is a perfect recipe for meat leftovers.
You can use red onions for a milder flavor.
Mayonnaise and Beef Pasta Salad is tagged as: